CANCELLED…….LACK OF PASSENGERS!!!!
Includes Morning Tea and Gourmet Sandwiches.
COST: $38.00 Members,  $43.00 Non Members
OPENS: THURSDAY 20th FEBRUARY 2014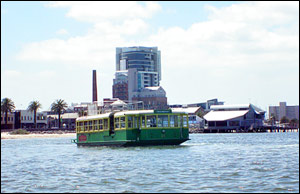 FINAL PAYMENT 6th MARCH 
Take the 9.15 am train from Macleod Station (park your car at Macleod Netball stadium)boarding last carriage as a group to Southern Cross Station, then catching the Bourke St No 86 Tram to the Docklands and alighting at the last stop D11, with a short walk to the Tramboat.  We cruise out of the everchanging Docklands through thr Port of Melbourne along the intriguing Maribyrnong River, passing Henderson House, Flemington Racecourse, the new Edgewater Estate, through suburbs like Ascot Vale and the beautiful Essendon Boulevard to our final destination Avondale Heights, where you can get out for a stroll to the sight of the original Tea Gardens. The Tramboat takes us back to the City.  Return by 3.30 pm.