COME ABOARD THE TRAM BOAT FOR A SCENIC DRIVE UP THE YARRA
 on the 10th March 2015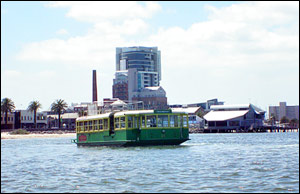 HAVE YOU EVER BEEN ON HERRING ISLAND?
A GREAT OPPORTUNITY TO FIND OUT WHAT IS ON THERE, AND ENJOY A GREAT OUTING ON THE RIVER
We will depart by train from Watsonia Station, and board as a group to Flinders St Station.  We then catch the Flinders St No 70 Tram to Waterfront City Marina Docklands and get off at stop D11, with a short walk to the Tramboat.  We then depart Victoria Harbour and cruise upstream of the Yarra River, through the City, as far as Hawthorn. (Depending on tides)
As morning tea is served we make our way to Herring Island, where you have time for a stroll around the island.  We continue our journey on board with Gourmet sandwiches being served.  As you relax you can view the beautiful houses of the rich and famous along the banks of Toorak and beyond.
COST $35    Non Members  $42
BOOKING OPENS: 19th February, at Community Hall, 37 Lambourn Rd, Watsonia
FINAL PAYMENT: 5th March
Depart 9 am  Watsonia Station
Return 3.30 pm