On the Pacific Eden (Refurbished in 2015)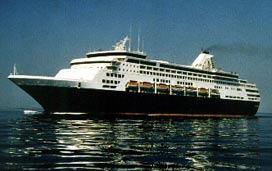 Sailing Dates: March 12th to March 17th 2018
Departs Melbourne, Monday March 12th 2018 @4:00pm
At sea Tuesday March 13th
Arrive: Hobart, Wednesday, March 14th @ 8:00 am.  Depart @ 11:59 pm
Arrive: Port Arthur, Thursday, March 15th @ 7:00 am. Depart: @ 5:00 pm
Arrive: Burnie, Friday, March 16th @ 10:00 am.  Depart: @ 5:30 pm
Arrives: Melbourne, Saturday March 17th @8:00 am
Cost: Inside Twin Cabin, $1464 per cabin, $732 each
Bus cost $23 each picking up from Watsonia Raiway Station carpark 12/03/2018 at 12:00 noon to Docklands. Return  Saturday 17/03/18 @ 9:00 am from Docklands to Watsonia Railway Station carpark.
Payment must be paid in full by 8th March 2018 at the Community Hall, 37 Lambourn Rd, Watsonia
Due to unforeseen circumstances out of our control prices may vary before payment is paid.